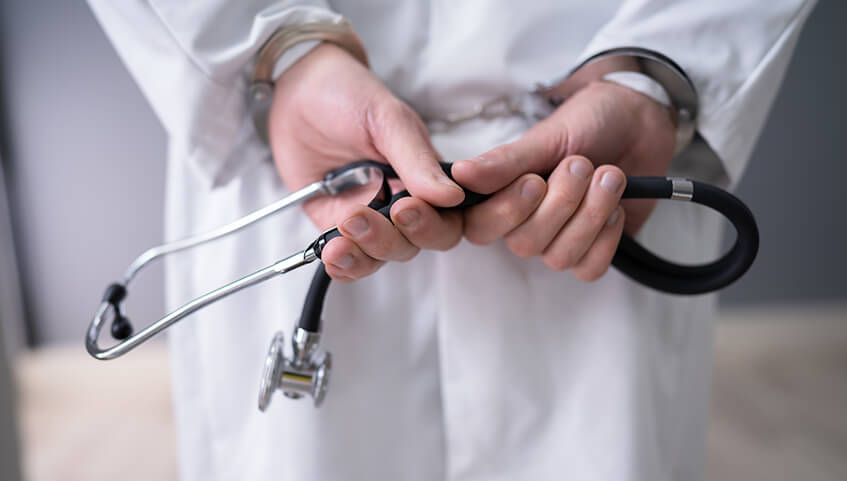 TALK TO US NOW FOR FREE
No Win, No Fee
Print PDF
Medical Malpractice Delayed Or Missed Diagnosis Cases
Delays in diagnosis can directly impact a patient's chance of recovery and survival. The earlier an illness is correctly diagnosed and treated, the better chance the patient has at recovery and survival.
The failure to diagnose health issues early can lead to more serious complications of the illness or even death. Incorrect or delayed diagnosis of an illness can cause a doctor or other hospital personnel to fail to order necessary tests, to order the wrong tests, to misinterpret test results, to fail to act on abnormal results, or to choose an incorrect form of treatment or no treatment at all. If a doctor fails to identify a treatable health condition and the condition became worse, the patient may have a medical malpractice claim for delayed diagnosis.
What Diagnoses Are Missed And Why?
One study found that cancer was the most commonly missed diagnosis. But patients with many types of illnesses have reported a delay in diagnosis or a missed diagnosis.
There are several steps in the process of diagnosing an illness. In some cases, a proper diagnostic test is not performed. Sometimes test results are not followed up adequately, or the doctor or nurse does not obtain adequate information from the patient or perform an adequate physical examination. Also, doctors may incorrectly interpret results.
When A Delayed Or Missed Diagnosis Becomes Malpractice
Doctors sometimes seem infallible, so we do not expect them to miss a diagnosis. When evaluating whether this kind of mistake is reasonable, the law looks at the standard of care provided. If all other things are equal, including training of doctors and the symptoms present, would other doctors have made the correct diagnosis?
Malpractice requires more than a doctor's services falling below a standard of care. To recover damages for a doctor's failure to diagnose, you must be able to prove that you were injured as a result of this delay. An injury can be many things, including the lost chance to address a cancer before it became inoperable or terminal.
At Martin & Jones, we frequently work with individuals and family members of individuals who lost the right to recover from a sickness or disease because the condition was not caught in time. We are sensitive to how devastating these mistakes are and to what they mean for the families. We cannot undo the mistakes that were made, but we can and do hold negligent parties accountable. To discuss your situation with one of our skilled medical malpractice attorneys, call us directly at 919-821-0005 or toll free at 800-662-1234, or reach us by email.  We have office locations in Raleigh, Durham, and Wilmington North Carolina.
Settlements/Verdicts
(Cases and matters referenced do not represent our entire record. Each case is unique and must be evaluated on its own merits. The outcome of a particular case cannot be predicated upon a lawyer's or a law firm's past results. Unless otherwise specified, each of the following matters was contested on liability and/or damages, the opposing parties were represented, the matters involved complex legal and/or factual issues, and the law firm was successful in collecting the amounts stated. Case summaries are from 2000 through the present.)
$1.76 MILLION SETTLEMENT REACHED OVER PATIENT'S DEATH FROM UNTREATED SEPSIS
A 36-year-old woman who worked as a CPA at a public university had been a long-time patient of a large multi-specialty medical practice. She went to the primary care division and was seen by a physician who had not treated her before.
MENINGITIS MISSED IN ER AND BY PEDIATRICIAN RESULTS IN $7.8 MILLION SETTLEMENT
Martin & Jones retained more than 20 of the foremost experts in pediatric infectious disease, neurology, radiology, nephrology and emergency medicine to assist with the case of a little girl who suffered profound brain damage due to meningitis which was undiagnosed, even though her mother repeatedly took her to the emergency room and her pediatrician.
$1.775 MILLION SETTLEMENT FOR PARENTS OF GIRL WHO DIED IN HOSPITAL DUE TO DELAYED TRANSFER
A 4-year-old girl with a serious heart defect died because of a delay in transferring her from a local hospital to a major medical center which was only two hours away. The little girl was in her local hospital for severe breathing problems caused by her heart defect.
UNDIAGNOSED MENINGITIS LEADS TO DEATH OF LITTLE GIRL/PARENTS RECEIVE $1.35 MILLION SETTLEMENT
A 2-week-old infant developed meningitis while hospitalized for dehydration. The meningitis went undiagnosed for four days, leading to brain damage and ultimately death.
$4 MILLION SETTLEMENT FOR YOUNG WOMAN PARALYZED BY UNTREATED EPIDURAL INFECTION
A 29-year-old woman was admitted to the hospital with debilitating rheumatoid arthritis in all of her significant joints that left her legs contracted at 90 degrees. Her orthopedic surgeon recommended bilateral knee replacements to restore her ability to walk.
Need A Personal Injury Lawyer?
Helping injured people is what we do. Contact us today for a free consultation to find out how we can help you.
Hear it from our clients

"We hired Martin & Jones in March 2015 and Steven Corriveau became our personal lawyer. Steven is a true professional who is understanding and easy to communicate with. He clearly explained the legal process to us. We are confident in the specific information, advice and feedback he gives us and know that he always has our best interest in the case. He responds quickly to our questions and concerns being available 24 hours a day. As our legal journey continues we look at the number of contacts we have with Steven. There have been 52 plus phone calls and conversations, 50 plus emails, 3 plus personal meetings, and 18 plus legal documents. We are honored to have such a caring lawyer as Steven in a stressful situation, in which he makes the process less difficult. We highly recommend Steven Corriveau who is great, intelligent, persistent and will deliver to the client. Our expectations are very high and Steven is the best." 

- Ronnie & Patricia

"We would like to express our gratitude to you (Hunt Willis) for accepting our case. First of all, when I called this law firm, a very sweet and kind lady answered the telephone and gave me assurance by asking and going over the accident with me, while my husband was in the hospital. I felt assured I was doing the right thing for us. She was so helpful in so many ways. What a professional lady. Secondly, we are much pleased that you have settled this case with the insurance company to receive the proper amount to assist us in so many ways. My husband and I are very happy with you and the firm in handling our case. You made us have confidence in your professional and integrity along with your assistant Ms. Routh, when you both came to see us in our home, in which we saw your compassion and thoughtfulness at that time. We will never forget what you have done for us, and we thank the lord for directing me to contact this firm. I'm glad I did." 

- Linda

"I would like to leave a testimonial thanking Steven and Allison for their care and understanding. Steven's pursuit and success in getting some compensation for our loss. A final closure of our loss of brother Mike. Thanks to Martin & Jones for looking after Mike's care since his injury in 2005. You have been there for Mike and his family for a long time. Mike passed in 2016 and you stood for the family up to the present (July 2017). Many thanks."

- Dan

"Thank you for always making me feel welcome and at ease in your office. I respect the work you do and your enthusiasm for it and am grateful for your talents."

- Tracy

"Thank you for the work you have done for Carl and our family. We so much appreciate your sincere professionalism and kindness you showed us. I know Carl is smiling right now and the Lord has blessed us through you. May God bless you."

- Connie, whose husband Carl worked as a brakeman for CSX Transportation and died of mesothelioma

"Thank you for your concern of my well-being every time I spoke with you. It always meant so much. I hear nothing but awful stories of dealing with attorneys and their offices, but I have had nothing but positive experience. You have many special ways of working with people in need of help. Words can never express the way your support has been so helpful. I pray you will continue to help others. I wish you all the best."

- Mary